Our Reading Music App – CDSM
About the FREE App, CDSM – Cintron Dyslexia Solutions with Music
FREE on Android and soon to be FREE on IOS.
Summary (previously called Dunking Dyslexia)
CDSM helps with reading, writing, spelling, pronunciation, and speech for
those with learning challenges, on the autism spectrum, in speech classes, and in ELD
classes. It's combining music with spelling  with music played in the left ear, and spelling in
the right ear. The spelling words progress in difficulty per lesson starting with 3-letter
words, to 4-letter words. Then advancing to 2 syllable words and then two words
that typically go together. Sentences follow with the progression of difficulty as well.
Word Lists can be purchased on Teachers Pay Teachers for Cintron Orton Gillingham Reading  Institute. (Go to the Store dropdown in this menu).
Description You'll see on the app:
Cintron Dyslexia Solutions with Music (CDSM) provides parents an alternative to helping your child bring a B to an A…that is, if your child knows phonics. If, not, this app is intended to be used with Dr. Cintron's Step By Step Reading Program ©.
This app requires internet connection and is divided into three subgroups. Students should be 7 years or older for using these exercises with the music. Music is always played in the LEFT ear and spelling in the RIGHT ear. This is called "Enhanced Lateralization."
For each button, students tap the button to begin the exercise, which can be paused, rewound, or fast forwarded as the student desires using the back, pause, and forward arrows < = >.
Subgroup 1: Music which is played in the left ear during any reading exercise and letter names and sounds for practice if needed.
Subgroup 2: Spelling word lists increasing in difficulty. There are 28 spelling exercises. Be sure the music is played in the left ear.
Subgroup 3: Spelling sentence groups with increased difficulty. There are 8 sentence groups. Be sure the music is played in the left ear.
Why This App Is Unique
It works! Unlock your dyslexic child's genius which is hidden because of a low self-esteem.
Sending music in the left ear while the child studies with our reading program helps him/her learn faster! Results consist of students: improved self-esteem, reading without being overwhelmed, writing better paragraphs, speaking up and sharing ideas, moving to the top of the class, loving school and learning.
And if you would like to receive the Spelling Exercises so you can check your child's work, email Dr. Cintron at mcintron@stepbystepdyslexiasolutions.com. 
About the Author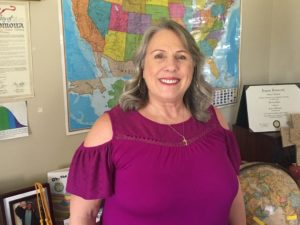 Dr. Marianne Cintron is a Doctor of Education in Leadership and Administration, speaker, and author. She has a Masters Degree in Special Education and in General Education complimenting two California Teaching Credentials. She is a Dyslexia Specialist, President of Step By Step Dyslexia Solutions, and an International Teacher Trainer. She tutors students with Dyslexia has opened Cintron Orton-Gillingham Reading Institute.
Dr. Cintron created the Step By Step Reading© program, developed a music app to help dyslexic children, as she helps parents unlock their dyslexic child's Superpower. She developed videos for Kinder reading,  First Grade and is working on higher grades to support homeschool parents and grandparents with kids. She has You Tube Channel and Podcast both called Dyslexia Solutions, and is helping thousands of families. She's been an educator for 25 years and a classroom teacher for 10. She works full time as a home hospital teacher. She's been married to Will for 33 years and has 2 adult children.