What's Happening with Step By Step Dyslexia Solutions?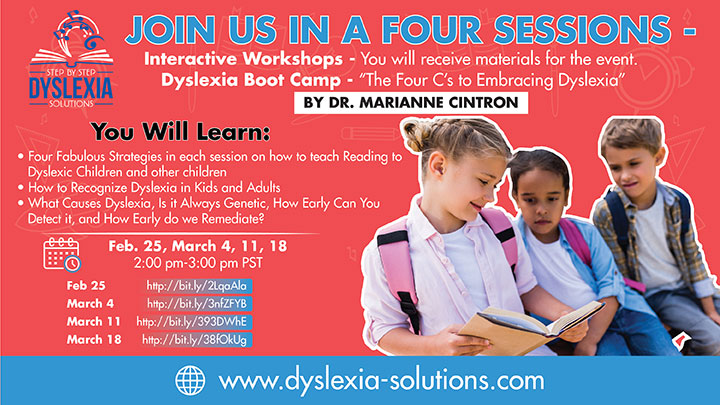 Dyslexia Boot Camp - "The Four C's to Embracing Dyslexia"
Join us in Four Sessions - Interactive Workshops - You will receive materials for the event.
You Will Learn:
Four Fabulous Strategies in each session on how to teach Reading to Dyslexic Children and other children
How to Recognize Dyslexia in Kids and Adults
What Causes Dyslexia, Is it Always Genetic, How Early Can You Detect it, and How Early do we Remediate?
Feb 25, March 4, 11, 18 1-2 pm PST
Only $47 for all Four Training Days!
ALSO, JOIN OUR MONTHLY FREE VIRTUAL EVENT:
How to Homeschool Dyslexic Children
March 12 2-3 pm PST
I just wanted to thank Dr. Marianne. She's just amazing and just such a support. The work that she's doing in Step By Step has just been amazing because there's so much sacrifice in this work.

There's so much that has been poured into this work. There's so much intent that has been put in to make sure that something can be delivered at a quality level for all of our kids and communities near and far.

So, I just don't want to miss the opportunity to be able to edify her and the work that she does.

The same person you see in her videos is who is passionate about the program, is the same person who assesses and tutors.

She teaches tutors and teachers. All this the same person. It's the same love and passion and the thing that you mentioned at the beginning of the interview, that you empower and encourage, I think is so powerful because I think it speaks to who you are as a person and that's the part that people should connect to.

That's the part that people should realize needs the sponsoring and support to continue this work in the world.

So continue to do an amazing job.  I stand for you and I just support you as much as we can as a family and as a business. Kudos for doing this great work in the world for all of our kids.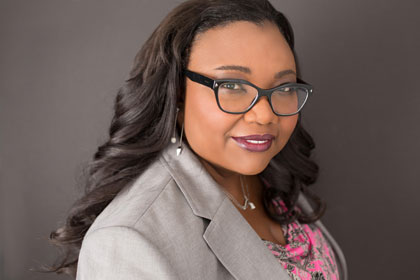 — Angele Cade, Board Member and President of Executive on the Go